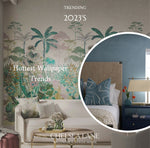 Introducing the top wallpaper trends of 2023. From classic to contemporary, these designs are sure to breathe new life into your walls.
Elevate your interiors with suede-inspired wallpapers. The soft, velvety finish exudes luxury and sophistication, making it a perfect choice for a plush, inviting space.
Photo Via: Phillipjefferiesltd on Instagram 
Designer: Widell boschetti 
 Plaster Wallpaper:
 Embrace the rustic charm of plaster-inspired wallpapers. These textured designs add depth and character to any room, creating a warm and inviting atmosphere
Large Scale Murals:
Make a bold statement with oversized, awe-inspiring murals. These larger-than-life designs create a captivating focal point in any room, allowing you to express your unique style and personality.
Floreana wallpaper- featured in the Kips Bay Showhouse 2023
Striped Wallpaper:
Timeless and versatile, stripes are making a big comeback. Whether you opt for bold, contrasting lines or subtle, tonal variations, stripes lend a sense of order and sophistication to any room.
Dark/ moody wallpaper:
Bringing drama of deep, moody hues. Dark wallpapers create a sense of intimacy and luxury, especially when paired with complementary furnishings and decor. They're perfect for creating a cozy, cocoon-like atmosphere.
Burnt orange/terracotta-colored wallpaper:
 Infuse warmth and earthiness into your space with burnt orange and terracotta-toned wallpapers. These rich, autumnal shades add vibrancy and a touch of the exotic to your interiors, creating a welcoming ambiance.
Vintage/Retro:
Step back in time with vintage and retro-inspired wallpapers. Nostalgic patterns and colors transport you to eras gone by, adding a touch of nostalgia and whimsy to your space.
Remember, the key is to choose a wallpaper that resonates with you and complements the overall aesthetic of your home. Happy decorating!
SHOP TRENDING WALLPAPERS ON THE SITE
Need help sourcing wallpaper or fabric for your next design project?
give us a call or text
561.904.6503