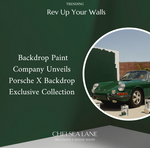 Attention, design enthusiasts and automotive aficionados! Backdrop Paint Company is revving up the interior design game with an exciting new collaboration - introducing the Porsche X Backdrop Exclusive Paint Collection.
Drawing inspiration from the iconic Porsche color palette, this exclusive collection directly brings the sleek, timeless elegance of Porsche cars to your walls. The result? A fusion of automotive excellence and interior design innovation, allowing you to infuse your space with the spirit of Porsche.
Chelsea Lane & Co. Exclusive Retailer of Backdrop Paints.
Call or text 561-904-6503 for more information.