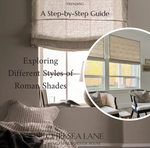 Whether you're aiming for a classic, modern, or eclectic look, there's a Roman shade style to suit every taste and interior decor.
Flat Roman Shades
Flat Roman shades are characterized by their clean, uncluttered appearance. The fabric lies flat when the shade is down, creating a sleek and elegant look. 
 Relaxed Roman Shades
For those seeking a softer, more casual aesthetic, relaxed Roman shades are a wonderful option. These shades feature gentle curves along the bottom hem, giving them a relaxed, slightly billowy appearance.
Hobbled (Waterfall) Roman Shades
Hobbled Roman shades are known for their cascading folds that create a series of overlapping loops. 
Balloon Roman Shades
Balloon shades are reminiscent of their Victorian-era counterparts. These shades are characterized by their billowing appearance when raised, creating a series of graceful curves
London Roman Shades
London shades are a hybrid between flat and hobbled styles. They feature a cascade of soft, overlapping folds at the bottom while maintaining a clean, flat appearance towards the top. 
Austrian (Pleated) Roman Shades
Austrian shades are reminiscent of elegant ballroom curtains. They feature graceful, cascading folds that can be adjusted to create a range of visual effects. When raised, the fabric gathers into pleats, creating a luxurious and voluminous appearance.
Faux Roman Shades
For those who want the aesthetic appeal of Roman shades without the functionality, faux Roman shades are an excellent choice. These shades are stationary and do not move up or down, making them purely decorative. 
Interested in custom Roman shades?
Call or text 561-904-6503 and let the experts help you choose the perfect options for your space.