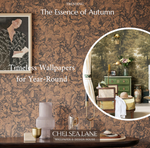 As the leaves begin their graceful descent and the air turns crisper, there's an undeniable magic in the atmosphere. In this blog, we will explore wallpaper that gives off the essence of Autumn and can be used year-round. 
Rustic Elegance:
Description: Embrace the rustic charm of fall with wallpapers featuring intricate wood grain patterns, reminiscent of a forest bathed in golden light.
Color Palette: Earthy browns, deep oranges, and warm taupe.
Application: Ideal for creating a cozy ambiance in living rooms or bedrooms.
Harvest Hues:
Description: Celebrate the bountiful harvest season all year round with wallpapers adorned with autumnal treasures.
Color Palette: Vibrant oranges, rich reds, and deep greens.
Application: Perfect for kitchens, dining areas, or even a charming breakfast nook.
Golden Hour Glow:
Description: Capture the mesmerizing glow of a fall sunset with wallpapers featuring gradients of warm, golden tones.
Color Palette: Gradations of amber, apricot, and honey hues.
Application: Elevate your entryway or create a stunning feature wall in your living space.
Nature's Tapestry:
Description: Bring the outdoors in with wallpapers featuring intricate leaf and branch motifs, creating a sense of being surrounded by nature's artwork.
Color Palette: Rich greens, burnt siennas, and muted golds.
Application: Perfect for creating a calming, nature-inspired retreat in bedrooms or home offices.
Vintage Autumn:
Description: Channel the nostalgic charm of fall with wallpapers featuring timeless patterns like damask or floral, updated with autumnal colorways.
Color Palette: Subdued burgundies, muted mustards, and faded greens.
Application: Adds a touch of classic elegance to formal dining rooms or vintage-inspired spaces.
Allow us to assist you in finding the perfect wallpaper for your upcoming design endeavor. Reach out by giving us a call or sending an image of your space or inspiration to 561-904-6503. We're here to turn your vision into reality.