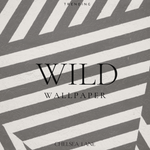 If you're looking to spice things up and add some personality to your space, consider incorporating unique and wild wallpaper designs. From bold geometric patterns to whimsical nature scenes, there are endless options to choose from. Here are some ideas to get you started.

1. Floral Paradise
Who says florals have to be dainty and delicate? Embrace the power of nature with a bold and vibrant floral wallpaper. Consider a pattern with oversized blooms or abstract designs for a modern twist on a classic look. This type of wallpaper is perfect for a bedroom or living room, and can add a pop of color to an otherwise neutral space.
2. Bold Geometrics
Geometric patterns are all the rage these days, and for good reason. They add structure and symmetry to a room, while still allowing for creativity and expression. Consider a pattern with bold lines and contrasting colors for a modern and graphic look. This type of wallpaper can work in any room, from a home office to a dining room.
3. Jungle Fever
Bring the jungle to your home with a wild wallpaper featuring tropical plants, animals, and other jungle-inspired motifs. This type of wallpaper can create a fun and adventurous atmosphere in any room.
4. Abstract Art
If you're looking for something truly unique, consider an abstract wallpaper design. These wallpapers feature bold colors and patterns that are more artistic than literal. They can add a sense of whimsy and playfulness to a space, and can be used in any room of the house.
5. Vintage Vibes
For a more retro look, consider a vintage-inspired wallpaper pattern. Think bold, funky designs from the 60s and 70s. This type of wallpaper can add a sense of nostalgia to a room, and can work well in a living room or den.
All pictures courtesy of Cole and Sons
No matter your style, there is a wild wallpaper option out there for you. Consider incorporating one of these unique designs into your home to add some personality and flair to your space.
Shop wild wallpaper on the site
For any questions visit our new West Palm Beach wallpaper and fabric showroom or call us at 561-904-6503
5710 S. Dixie Hwy WPB, FL 33405