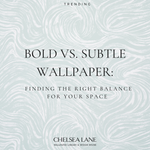 Wallpaper is a great way to add personality and style to any room in your home. One of the most important decisions you will make is whether to go with a bold or subtle wallpaper design. Finding the right balance for your space is key to achieving the perfect look.
Bold Wallpaper
Bold wallpaper designs can make a powerful statement in any room. They are perfect for adding drama and impact, and can instantly transform a space into a showstopper. Bold wallpapers come in a range of colors and patterns, from geometric shapes to bright florals. They are great for adding a pop of color to a neutral room, or for creating a focal point in a larger space.
Subtle wallpaper designs can be just as impactful as bold ones, but in a more understated way. They are perfect for creating a calm and soothing atmosphere, and can help make a room feel more spacious. Subtle wallpapers come in a range of colors and patterns, from delicate florals to textured designs. They are great for adding texture and depth to a room without overwhelming the space.
Finding the Right Balance
The key to achieving the perfect look with wallpaper is finding the right balance between bold and subtle designs. One way to do this is by using a mix of patterns and colors. For example, you could pair a bold floral wallpaper with subtle stripes or a neutral background. This will help balance out the design and create a more cohesive look.
Another way to find the right balance is by using wallpaper in moderation. Instead of covering an entire room with wallpaper, consider using it on an accent wall or in a smaller space. This will help create a focal point without overwhelming the room.
Ultimately, the right wallpaper for your space will depend on your personal style and the look you want to achieve. Whether you choose a bold or subtle design, remember to balance it out with other design elements to create a cohesive and stylish look.
Shop bold and subtle wallpaper on the site
For any questions visit our new West Palm Beach wallpaper and fabric showroom or call us at 561-904-6503
5710 S. Dixie Hwy WPB, FL 33405