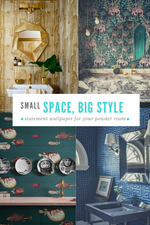 The Bolder The Better, More Is More, #maximalism… whatever your phrase of choice, it's no secret that pattern and texture is totally having a moment and subtle gets you nowhere. If you are feeling inspired by all of the amazing statement wallpaper on your Instagram feed, but feel a little hesitant putting it in a large space, the powder room is your new best friend! In order to silence any small, remaining slivers of doubt you may have about taking the paper plunge, we've compiled three fail proof reasons as to why your powder room REQUIRES statement wallpaper.
Photo via: Design Works
Wallpaper is bona fide artwork and timeless designs can quickly become cult classics- it is easy to fall in love with iconic wallpaper designs that can fall a little on the expensive side (think certain plant life associated with certain iconic hotels…). With that said, the smaller the space, the less wallpaper you need and the less wallpaper you need, the less money you will need to spend…therefore if you fall head over heels for a pricier paper, putting it in a room without a lot of square footage won't make a huge dent in your pocket and still delivers the design vision of your dreams.
Photo via: Michelle Gage
Wallpaper is art and our job is to help you find your next masterpiece. What better way to showcase your uber-chic taste and interior design skills, than to display your "artwork" wallpaper in a room where everyone is pretty much guaranteed to see it AND have a few minutes of prime seating with which to admire it from.
Photo via: Duet Design Group
Let's be honest, as humans in the age of the internet we are all visually over-stimulated and can tire of staring at the same thing day in and day out. Even the most fabulous of designs can start to feel blasé when in your face 24/7, which is what makes the powder room so perfect for showcasing a statement print- easily tucked away with a door, you can pick and choose when you want to be surrounded by it, as well as having the added benefit of bringing a giant smile to your face whenever you open said door and enter the wallpaper wonderland of your dreams.
At Chelsea Lane & Co., we specialize in helping you create that statement space and have thousands of wallpaper designs to choose from. You can shop these designs (or similar) via the link in picture or you can pop by our showroom or reach out to us through our website, so we can help you design the space of your dreams!
Photo via: Source Unknown
Photo via: Cole & Son
Photo via: Honey Collins Interior
Photo via: DB Studio
Photo via: Scout Designs
(All Links For Product Featured In This Blog Post Included Below.)