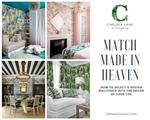 Wallpaper is a committed relationship and for wallpaper lovers that are new to the game, finding and selecting "the one" can feel a little overwhelming. Rest assured though, at Chelsea Lane & Co., we pride ourselves on being stellar matchmakers of the wallpaper/client variety and can guide you on both the journey of finding your perfect paper match, as well as introducing said paper into the walls and décor of your life.
 As you embark on this journey, keep in mind that wallpaper can be incorporated into a space at any point in time, however we find that the longest lasting love affairs begin by connecting you with a wallpaper design that speaks to your soul and then utilizing one of our 3 fail-proof techniques (outlined below) for designing the rest of the space as a compliment to the wall-partner of your dreams. 
You can shop these designs (or similar) via the link in picture or you can pop by our showroom/reach out to us through our website, so we can help you design the space of your dreams!
Print & Solid Become One
A classic design technique for keeping things cohesive is to extract a solid color from the wallpaper design and paint either coordinating walls or the ceiling in said shade of paint. It effortlessly ties the room together and creates dimension without overwhelming. This technique is a go-to design formula if you are wallpapering on a budget or if you love the look of a statement/accent wall in a bold wallpaper. With that said, don't discredit a subtle wallpaper with this trick- a painted ceiling can really make an understated design POP. 
Photo via: James Thomas Interiors
Photo via: Jono Hawkins
Shop Grasscloth Wallpaper Link
Photo via: Crystal Sinclair Designs
Opposites Attract
When clients are really looking to shake things up and step outside of their comfort zone, one of our favorite design techniques is coordinating two wallpapers within one room and similar to our first technique, both walls and ceilings are fair play for application. This is easier to pull off than you might think, however it's important to choose wallpapers with complimentary color schemes, which is why our matchmaking expertise is so beneficial. When executed well, this design method makes a lasting impression and truly brings that WOW factor to the room.
Photo via: Source Unknown
Photo via: Tony Andersson
Shop Ottoman Print Link
Photo via: Christiane Lemieux
From The Windows To The Walls 
An iconic look that often comes to mind with wallpaper is matching the walls, curtains and pillows for a head to toe look, and many of the wallpaper brands that we work with offer coordinating fabric with their wallpaper designs. While this may feel a little old school, don't count it out just yet- when done well, this classic wallpaper technique can be both modern and fresh while still maintaining a timeless elegance. If you feel this is the level of commitment you are seeking, let us know and we can connect you with the paper/fabric combo of your dreams! (Fun Fact: we offer both upholstery and custom drapery services at Chelsea Lane & Co.)
Photo via: Thibaut Designs
Photo via: Thomas James Interiors
Photo via: Martha O'Hara Interiors
Photo via: Thibaut Designs
(All Links For Product Featured In This Blog Post Included Below- Pls Connect With Us Via Our Website Or Showroom For Thibaut Wallpaper.)