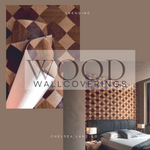 This isn't your dads 1990's retro wood plank basement with an orange shag rug, this is the trending, modern twist- wood wallcoverings.  
This style of wallcovering comes in multiple variants', and each can elevate your space. Below are just a few.
- Vinyl 
- Wood Veneer
- Wall paneling 
- multi pattern 
This light grey paneling design with a wood grain print adds light and texture to this mid-century living room.
adding this geometric wood feature wall to this living space brings a dark sophisticated modern ambience.  
A beachy grey faux wood panel wallcovering gives this space a edgy and contemporary impression. 
Interested in this trending design? shop the pictured wallcoverings below.
For any questions visit our West Palm Beach wallpaper and fabric showroom or call us at 561-904-6503