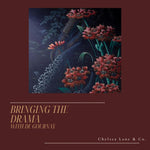 De Gournay is know for creating some of the most uniquely curated hand-painted wallpaper on the market. De Gournay wallpaper design stems from when the founder, Claud Cecil Gurney, traveled to China in the 80s where he discovered the beauty of Chinese art. Claud was inspired by the art and wanted others to experience the beauty that came out of East Asia. De Gournay's style varies anywhere from Chinoiserie, 19th century French Scenic, gold leaf ceiling, to taking a more enriched moody styling as shown below. 
De Gournay describes it as, " A dense and teeming jungle scene painted in 'Night' design colours – its tones inverted to appear as though illuminated by moonlight – and accented with hand embroidery: beaded embellishments that add further shimmer to the vivid plants and foliage, crowned with a gleaming full moon."
De Gournay describes it as, "A moonlit forest is the setting for 'Phuljhari', a pictoral depiction of countryside at night, with a flowing river trailing through dense trees. Named for the sparklers lit during Diwali, the Hindu festival of Light, the sky is illuminated with fireworks cascading in the dark."
L'Éden - Eau Forte
Malwa - Olive Tobacco
Inspired by these moody wallpaper murals? shop similar below. 
 For any questions visit our West Palm Beach wallpaper and fabric showroom or call us at 561-904-6503