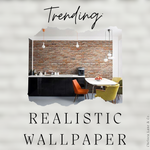 Realistic-looking wallpapers are all the rage. They are perfect because they provide a new textured look to any space which provides a complete facelift no matter how small. We love having representation of different textures and unique styles. Below are fan-favorites!

We are starting off strong with beautiful faux brick!


Wallpaper doesn't just belong on walls... this design looks stunning on the ceiling!




Here is some weathered wood for a rustic feel!





Now, for some less-weathered but just as beautiful shiplap-esque wallpaper.





And a mixture of the two...





Moving on from wood, we are loving faux metal walls!





And here is some decadent texture.




And lastly, our always-beautiful marble.





All of these wallpapers are linked to our website. Click on the photos to learn more, or visit our showroom. We are open from Monday-Friday, 10 AM-5 PM.