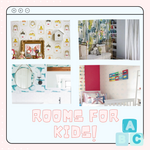 Kids rooms are so fun to decorate, and picking out a wallpaper that they will absolutely love is critical! Having a room that is specific and unique to an individual child is so important, and we are here to help! We have many prints specifically designed for children (or the pattern-loving adult), featured below. 


Starting off strong, here is some fun retro "Go Go" wallpaper. 




Next off, here are a few of our favorite animal designs!




A fun insect wallpaper for a little explorer...




Next up, we have some sweet florals!


And we are loving these whimsical prints!





Lastly, we have some cute citrus.




All product featured in this blog is linked to our website. If you would like to explore more, visit our showroom anytime Monday-Friday, 10 AM-5 PM.