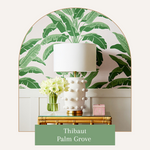 Thibaut knows how to please their tropical-loving customers with this new collection... Palm Grove.
 including textured paper weaves, vinyl, and screen printing, if you love a palm design, this one's for you!
Below are a few of the prints offered, as well as shots of a bathroom Chelsea Lane & Co. Wallpapered featuring the Palm Grove collection.
Palm Grove: Sunset Boulevard, bathroom install by Chelsea Lane & Co. West Palm Beach, FL
View the whole collection on Thibaut's site:
https://www.thibautdesign.com/catalog/collections/details/collection/Palm+Grove
For any questions or to order samples visit our West Palm Beach showroom or call us at 561-904-6503