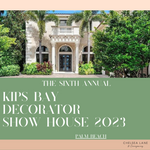 Some of the Chelsea Lane & Co. Team took a trip to the Kips Bay Decorator Show House last week. The decorator show house benefits the Kips Bay Boys & Girls clubs of Palm Beach County. 
Below, each team member picked their favorite room in the waterfront estate.
Chelsea:
"Lucy Doswell, did a fantastic job on this library. It is moody and tasteful. I'd definitely love to have a cup of tea and read a book in this space."
Ariel:
"I love when a designer puts an edgy touch to their designs, and that is exactly what Errez Design Studio did!"
Valerie:
"Harlequin wallpaper has some of my favorite patterns. I loved how Mabley Handler took a risk with all the wallpaper and marble flooring. You need to have a real eye for interior decorating to envision a space like this." 
Sarah:
"Katie Ridder, really took my breath away with this sitting space in her primary bedroom expanse. The bight colors ,with a hint of floral, makes this one for the times."
Maddi: 
"Pink is my favorite color, so stepping into this guest room designed by Mabley Handler, really boosted my mood, and even gave me inspiration for how I would like to design a space in my house."
Renae:
"Did I travel to the 1960s? That's what I thought when I walked into this bathroom with an all pink toilet, tub and sink. I love a classic, vintage style, and this gave me just that."
Shop our top selling wallpaper on the site:
For any questions visit our new West Palm Beach wallpaper and fabric showroom or call us at 561-904-6503
5710 S. Dixie Hwy WPB, FL 33405