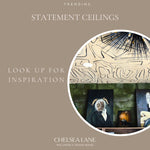 Explore the often-overlooked "fifth wall" – the ceiling – as a canvas for artistic expression. We'll share design ideas to make your ceiling the focal point of any room.
Embrace Bold Patterns:
Dare to dream big and make a statement with bold patterns on your ceiling. Opt for vibrant geometric designs, dramatic floral motifs, or abstract patterns. These eye-catching choices can add an unexpected element to your space, creating a sense of drama and visual interest.
Color Play:
Ceilings don't have to be limited to plain white. Embrace the power of color and infuse your space with personality. Experiment with rich hues or soft pastels to create a captivating ceiling that complements the overall design scheme.
Intricate Designs:
Delve into the world of intricate ceiling designs to elevate your space to new heights.
Shop our ceiling staples on the site
For any questions visit our new West Palm Beach wallpaper and fabric showroom or call us at 561-904-6503
5710 S. Dixie Hwy WPB, FL 33405