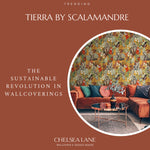 Introducing Tierra by Scalamandre: The Sustainable Revolution in Wallcoverings. Say goodbye to PVC and hello to a new era of eco-conscious design! This groundbreaking collection of PVC-free wallcoverings not only replicates the luxurious look and feel of traditional options but also goes the extra mile by being highly sustainable. Crafted entirely from organic, regenerated corn, Tierra combines beauty and environmental responsibility flawlessly.
Step into a world of elegance with Tierra's embossed linen texture solids, available in a delightful rainbow assortment. Each shade brings a touch of sophistication and warmth to any space. But that's not all – Tierra also showcases bold and captivating botanical motifs, inviting nature's wonders indoors.
Embodying the essence of our precious environment, Tierra reminds us of the urgent need to protect and preserve our planet. By opting for this corn-based alternative, you're making a conscious choice to reduce your carbon footprint while enjoying the aesthetic appeal of high-end wallcoverings.
Join the sustainable design movement and transform your space with Tierra. Let nature's beauty and environmental protection harmoniously coexist on your walls!
Checkout the rest of the collection on their site
For any questions visit our new West Palm Beach wallpaper and fabric showroom or call us at 561-904-6503
5710 S. Dixie Hwy WPB, FL 33405