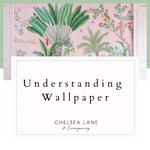 Often times picking out wallpaper is a difficult task because of the huge commitment that comes with it. After making this commitment, there are several ways to consider decorating the rest of your space. Rather than choosing a wallpaper that goes with your current decor, sometimes people start with the wallpaper and coordinate the rest of the room to go with it. Some ways you can do that is to...
1. Match paint: 
A classic way to keep things cohesive is to match the shade of paint with the wallpaper. The pairing makes the room look put together and colored walls (or ceilings) are more fun anyways. 
2. Coordinating fabrics: 
Many brands that make fabric and wallpaper usually have them in the same prints. If you're into this style, be sure to check if the wallpaper you're getting has matching fabric. 
3. Opposites attract:
If you're up for taking risks, using two different patterns for the walls and ceiling is one way to do it. However, picking two random papers probably won't be ideal, so a tip is to choose ones with similar color schemes that complement each other. 
 For any questions regarding wallpaper visit our West Palm Beach showroom or call us at 561-904-6503