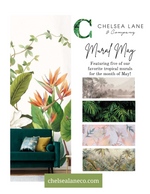 Murals have been increasing in popularity and fashion, and we have finally chosen our favorites for this month! Featured below are our top five tropical murals, expertly chosen due to their fun patterns and beautiful colors. All of these murals feature beautiful palm fronds, though differing in color scheme. All of these murals can be found on the Chelsea Lane & Co. website. 
1. Amazonia Wall Mural 
2. Naples Palm Mural
3. Palm Lake Mural
4. Tropical Concrete Wall Mural
5. Forest Plant Wall Mural
All Links for Product Featured in This Blog Post Included On Our Site. Please Connect With Us Via Our Website or Showroom.