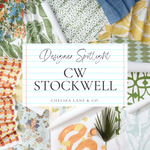 C.W. Stockwell is one of our most-loved designers here at Chelsea Lane & Co. Their last collection drop was in 2019, and we have been eagerly awaiting since then. They have recently come out with their summer collection, and the verdict is in... we love it. Here are a few of our favorites!
Martinique Grasscloth Collection (Sand)


Canyon (Seadrift)


The Hand-Printed Denim Collection


Cabana (Sun)


Basket Plaid 


Martinique (Ebony)


 All Product From C.W. Stockwell. Please Connect With Us Via Our Website or Showroom For More Information.