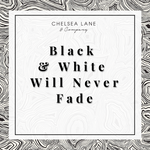 Many trends come and go but something is for certain, black and white never goes out of style. The classic combination between black and white just seems to work throughout any season. Decorating with these colors isn't difficult and can be used to make a bold statement, or even simplify things. Here are a few ways to start bringing these classic colors into your space. 
You can go bold as wallpaper...
Even incorporate it within your furniture...
For any black and white wallpaper visit our West Palm Beach showroom or call us at 561-904-6503